Created on Thursday, 24 April 2014 04:27
Catholic bishop criticizes atheist Prime Minister for not having gone to church on the day marking Croatian statehood on June 25.
Bishop Vlado Kosic of Sisak, said while presiding over a religious service that Prime Minister Zoran Milanovic, a declared atheist, was deliberately promoting atheism.
"This is an attempt to violently promote atheism and anti-Catholicism in Croatian society," Kosic said, referring to the Prime Minister's announcement that he and other non-religious ministers would not be going to church on the day marking Croatian statehood.
"They should be in church together with their religious people, since they are their representatives," the bishop added.
Milanovic said that as an atheist he did not want to go to the church on state holidays, as Catholics in Croatia usually do, including all former Croatian presidents and prime ministers.
The Prime Minister's remarks made waves in Croatia, a predominantly Catholic country where almost 90 per cent of the population declare themselves as Catholics.
Created on Thursday, 24 April 2014 04:23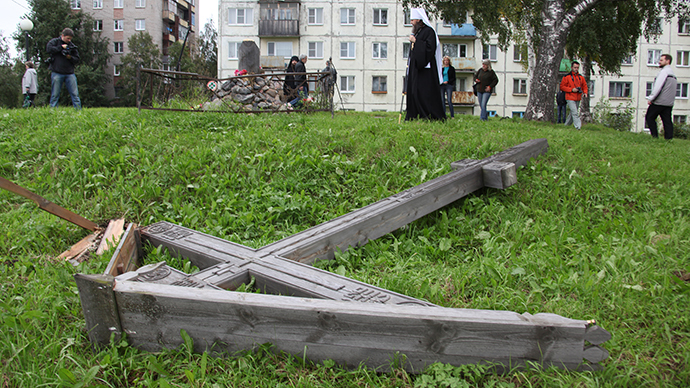 The decision was announced this week at a meeting between city residents and deputies of a district council that was held near the pilgrimage center of the Moscow Patriarchate, in south-west Moscow. 
"The atheist extremism is currently rearing its head. It is sponsored by various funds and NGOs with roots outside Russian borders," reads the first statement released by the new movement.
The group claims that their enemies are opposing citizens' lawful right for freedom of thought, conscience and religion, guaranteed by the Constitution.
Page 2 of 2
Warning
: Illegal string offset 'active' in
/home/content/28/8522628/html/templates/rhuk_milkyway/html/pagination.php
on line
90
Warning
: Illegal string offset 'active' in
/home/content/28/8522628/html/templates/rhuk_milkyway/html/pagination.php
on line
96
Warning
: Illegal string offset 'active' in
/home/content/28/8522628/html/templates/rhuk_milkyway/html/pagination.php
on line
90
Warning
: Illegal string offset 'active' in
/home/content/28/8522628/html/templates/rhuk_milkyway/html/pagination.php
on line
96
«
Start
Prev
1
2
Next
End
»